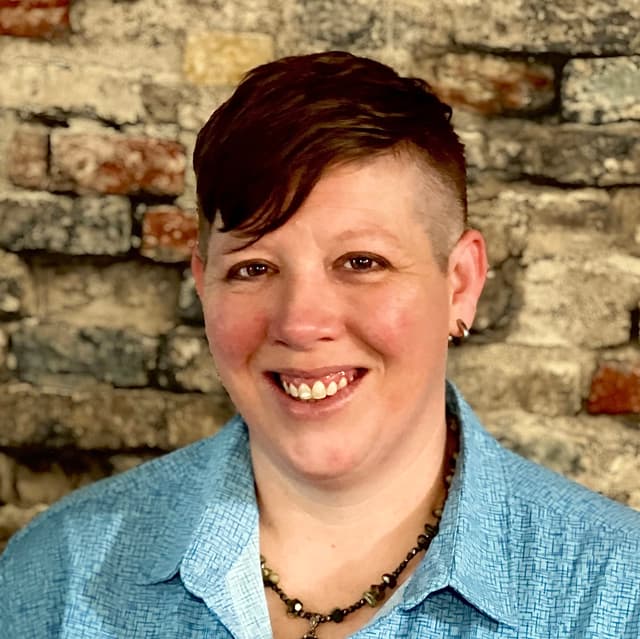 Amy Pennington
Owner and Head Groomer
Hi, I'm Amy, owner and head groomer at Little Blue Groom Buggy. I've been delightedly working in the grooming industry since 2015. I first started out as a bather to determine if this was the right career change for me. It was! And I immediately fell in love with working with dogs. My choice was solidified when I watched another bather quickly calm a very nervous dog simply with her body language. Right then I knew I wanted to be able to give dogs that same experience. I quickly started my formal training and graduated from the American School of Dog Grooming in 2016.
I love working with dogs of all life stages, but have a special passion for dogs that require that extra loving touch to feel safe and confident. I am a certified Fear Free Professional and have AKC certifications in Handling and Disease & Sanitation.
I have always had an innate love of and connections to the animal kingdom. As a young child, my grandma nicknamed me "her little pet". While I love all dogs, I am wildly fond of Chihuahuas and Golden Retrievers.
A Friend to Your Best Friend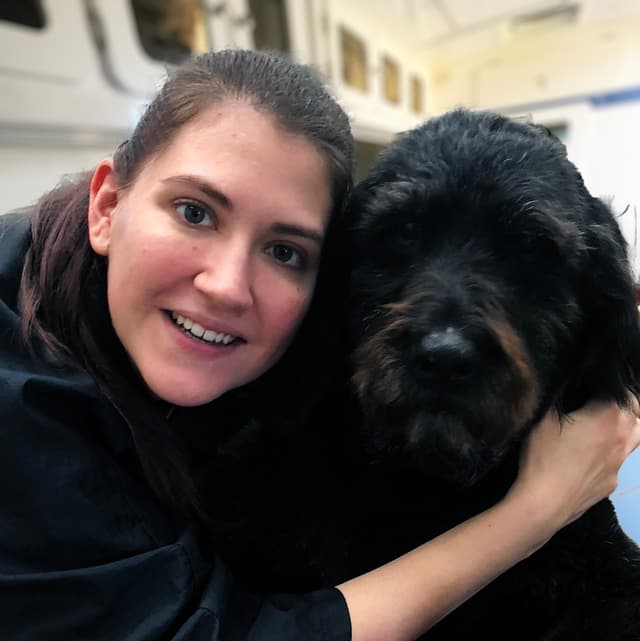 Julie
Groomer
Welcome! My name is Julie, and I have always had a deep passion for both animals and art. After attending the Agriscience and Environmental Technology program at Oakland Schools Technical Campus in 2004-2005, I was given the chance to obtain certification in a field of my choice. Given my love for animals and sculpture, my teachers suggested dog grooming, which I immediately fell in love with and received certification in 2005.
Following high school, I continued grooming dogs for family and friends at their homes until I found a grooming shop that I called home for 13 years. Unfortunately, the shop closed permanently while I took a break to have my son. But, grooming is my passion, and I couldn't imagine doing anything else.
Luckily for me, Amy reached out at the perfect time, and I am excited to work with her. While I love working with all breeds of dogs, my favorite is working with puppies. I enjoy teaching them about the grooming process and helping them become comfortable with it. Building their trust is key, so that grooming can be a positive and enjoyable experience for both of us.
Creating lifelong positive experiences.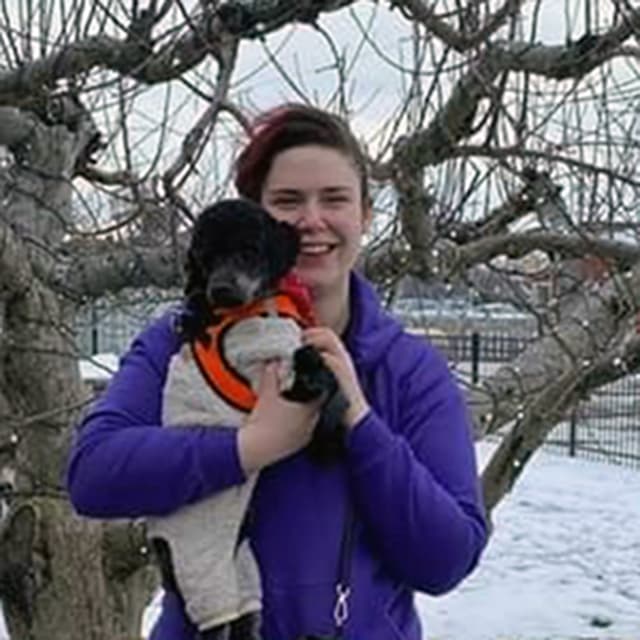 Sarah
Groomer
Hey there! I'm Sarah. Ever since my early years, the wagging tails and wet noses of dogs have held a special place in my heart. As soon as I found out about dog grooming as a career, I too set out to learn as much as I could. Those countless hours spent watching videos of professional groomers at work, the gentle brushes and comforting touches, were not just entertainment for me - they were my dreams taking shape.
I remember the first time I stepped into a salon as a bather. That experience? It was the affirmation I needed. It was like every splash of water and bubble of soap said, 'This is where you belong.' By May 2022, my dreams took a tangible form when I earned my certificate from The Paragon School of Pet Grooming. Since then, every furry friend I meet, adds to my knowledge and skills, and brings gladness to my heart. Oh, and if you bring in a curly-coated one, know that they tug at my heartstrings just a little bit more. Perhaps it's because of my sweet Poodle mix, Grim, who fills my days with joy.
When I learned about the opening at Little Blue Groom Buggy, especially with its emphasis on Fear Free Mobile Grooming, I knew this was the place for my next adventure. I eagerly look forward to meeting and building relationships with both our four-legged clients and their loving humans.
Wagging tails and wet noses are my happy place!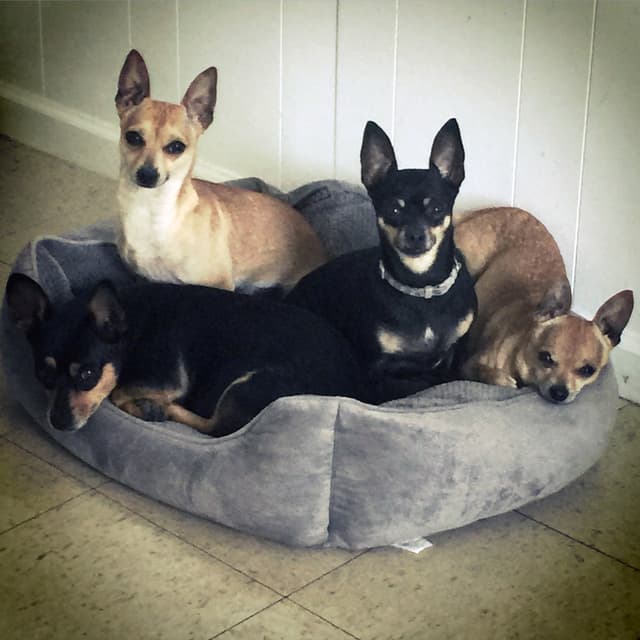 Gunner, Phoebe, Sage & Bomber
Best Dogs Ever
Gunner (aka Gunner dude, the dude, little man) was my first pup. He was my sidekick and up for anything that involved being with me. He loved car rides and got to go on a lot of big road trips. He was my sunshine, and I'm so lucky I got to be his mama.
Phoebe was my roommate's dog. As a puppy, I used to tell her that "someday she would be all mine." It was a joke that ended up coming true, and I couldn't be happier about that. She is my empath and stubborn old lady. Mostly she's my sugar plum, and I could just eat her cute little self up.
Sage was my special surprise when I took in Phoebe. No one knew she was pregnant… and with just one little pup. She is the absolute sweetest and neediest little girl. She is timid and gentle and loves nothing more than being curled up on me.
Bomber is excited for pretty much everything… food, snuggles, playtime, and of course more food. He and Sage are joined at the hip and very protective of each other. He's the absolute best at wiggling his way in between me and whomever is snuggling against me.
What's next, mama??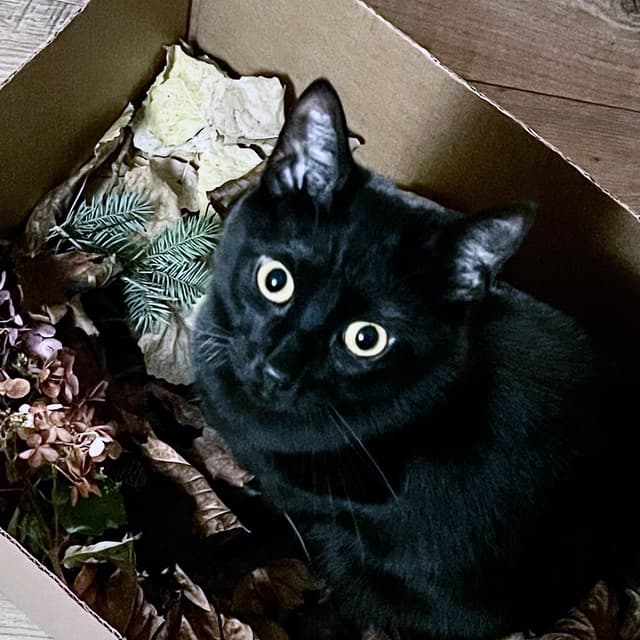 Void Velociraptor
Best First Kitty
Void Velociraptor was a surprise addition to our crew. He is my very first cat, and I adore him. In a house full of senior dogs, this two year old cat keeps us very entertained. He loves hopping out and scaring the dogs, playing fetch, rough housing, and being the recipient of lots of vigorous head rubs. He has been the best first kitty.
Got you, puppies!